Planes of Fame
IF YOU'RE A MilitaryHistoryNow.com regular and you ever find yourself in the Los Angeles area, you're going to want to check out the Planes of Fame museum in Chino, California.
Opened in 1957, the site is now home to nearly 150 vintage military aircraft, 30 of which have been restored to flying condition.
And if you time your visit right, you may be able to catch one of Planes of Fame's monthly Living History Flying Days. Held on the first Saturday of the month, each one these mini air shows typically begins with a lecture or presentation followed by a flying demonstration by one of the museum's own planes, or a visiting aircraft on loan from another collection.
We attended one of these events in recent weeks all about First World War aviation. Afterwards, we got a chance to take in most of the museum's collection. Here's what we saw.
Adventure at 20,000 feet
Today, flying has been utterly stripped of the glamour and excitement it once held. For most people, air travel in the 21st Century involves a few hours in an aluminum and composite tube with about 150 other travelers. Leg room is at a premium but on the bright side there are snacks, drinks, and maybe a movie, edited of course for an airline audience. It's a little uncomfortable, somewhat unpleasant but mostly tedious. Yet to anyone who lived 100 years ago, aviation was anything but full. It was the domain of the daring and was made up of equal parts daring-do, thrills and romance.
Back then, "flying" meant taking to the heavens in a flimsy open-cockpit aircraft made of wood, fabric, and wire with few instruments. There was no radar, no radio, limited range, and the constant spray of castor oil leaking from the uncowled engine.
It's cold at 20,000 feet, so pilots of the era had to wear helmets, goggles, lots of warm clothing. Many brought along oxygen tanks — just like anyone climbing Mount Everest. It took courage to fly and fight in those primitive aircraft. Perhaps for this reason, early pilots were - were called Knights of the Air.
And like mounted warriors of old, early military pilots also lived by an old-time code of chivalry. When the German ace Oswald Boelcke was killed, he was given a funeral at the cathedral in Cambrai, France before his body was shipped back to Germany. Featured at the funeral service was a pillow sewn by POWs from the Royal Flying Corps in tribute to their fallen foe. Continue reading here
Entrance to Planes of Fame Museum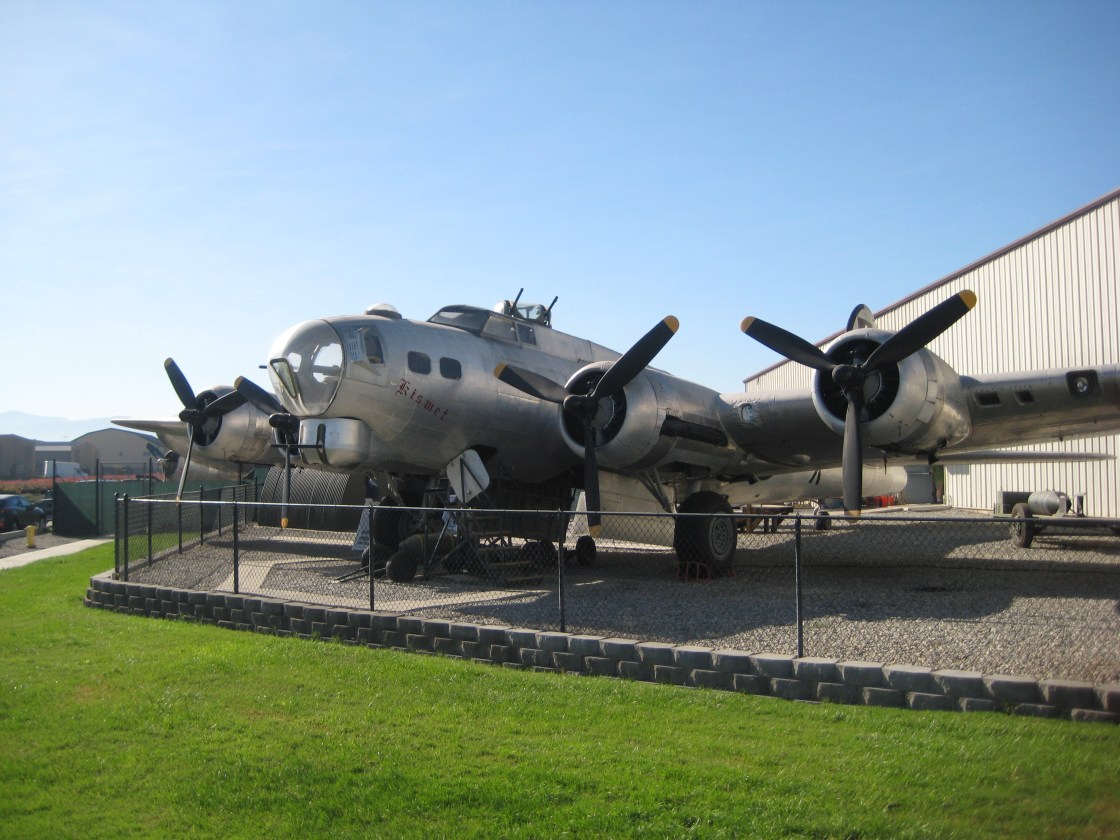 Replica French First World War Hanriot bi-plane.
North American F-86 Sabre